Cool water at the playground
From small water play combinations to water adventure worlds
Water has always acted like a magnet on children, from the smallest to schoolchildren. It is able to take on the most varied of properties, is infinitely malleable and controllable, and can be both gentle and powerful. We know from observations in our amusement park "OBRA Kinderland", among others, that water play facilities can captivate and keep children busy for a long time.
Many playground operators are aware of this, as we can see from the many inquiries in this area. In practice, however, it is often the case that water playgrounds are not used because the construction and operating costs are assessed as too high. There are also fears of high running costs for the water. And this is not entirely without good reason, since water playgrounds require drinking water quality and, if they are drawn from the local water supply, costs can be quite noticeable at places with high water consumption.
Economical water play combinations
Therefore, OBRA Design has developed small water play combinations that offer a lot of fun with a manageable budget and also with the water dispensers variants that regulate the water consumption well. As small water play combinations made of wooden elements, we offer the popular classic 78250 mini water play as well as the new water play "Water Flea" 78242. A fully assembled water play combination, the "Frog King" 78490 water play with the funny water dispenser in the frog design, is also available in the particularly high-quality stainless steel version.
78250 mini water feature

78242 "Water flea" water feature

78490 "Frog King" water feature
All these small water play combinations have in common that the water is supplied via water-saving devices, either via a robust push button that releases a small amount of water when pressed, or via a tap that can be closed again by a supervisor when there is enough water to play in the channel system is. There are also different versions of the handle pumps in the OBRA Design range, which emit different amounts of water per piston stroke. In addition to these small water play combinations, our program offers enormous possibilities to build water worlds with all imaginable play functions, be it from the proven wooden channel system, from stainless steel channels or as designed streams with built-in water play elements for blocking, rerouting, driving, etc. on our website among Sand and water play equipment and in ours Cataloge, which you can order free of charge, you will find many examples.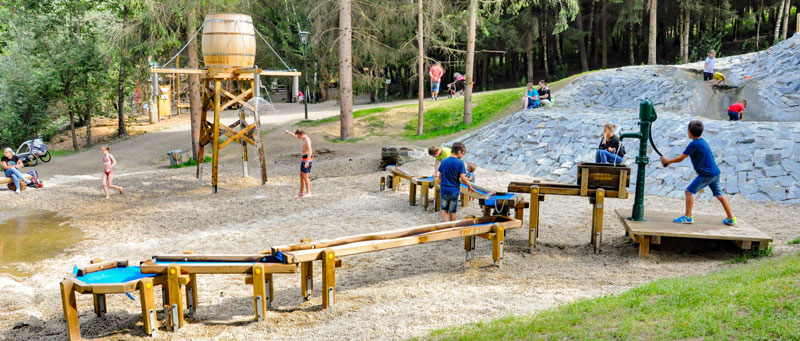 Water play area in Pullman City, Eging am See (DE)
It should also be mentioned that in times of climate change, water play systems have an additional function in addition to the great fun they offer children: Evaporation of the water results in additional cooling of the environment and thus a more pleasant microclimate. Since, as already mentioned, children like to linger longer in the water play area, it also makes sense to shade these areas. If there are no natural sources of shade in the form of trees, OBRA Design is happy to help with a large selection of shade sails and shade pergolas.